Hot Dipped Galvanized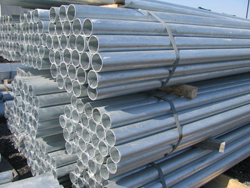 Galvanization
Galvanization (or galvanisation) is the process of applying a protective zinc coating to steel or iron, in order to prevent rusting. The corrosion protection and performance is directly related to the weight of the zinc coating.
Hot Dipped Galvanized
Hot dip galvanizing is the application of a zinc coating by dipping the steel in a zinc bath. It is very important to note that this term is sometimes used in the industry when referring to powder coated painted tubes, by companies trying to mislead consumers into a false sense of security. Eg. Standard hot dipped galvanized tubes which are used in the industry have a zinc coating of 550g/m2.
Polyester Powder Coated Tubes -GALVALUME ™
The Galvalume™ coating, applied by the continuous hot-dip process, is an alloy consisting of approximately 55% aluminium and 45% zinc by weight. Galvalume™ steel combines the best qualities of aluminium and zinc. Due to the fact that Galvalume™ coating is partially made out of aluminium, when comparing it to other zinc coatings, the same weight of coating will produce a thicker protective barrier. Hence providing a superior corrosion resistance to that of G90 and G60.
TM - Galvalume is a trademark of ArcelorMittal Dofasco in Canada, and a trademark of BIEC